Bio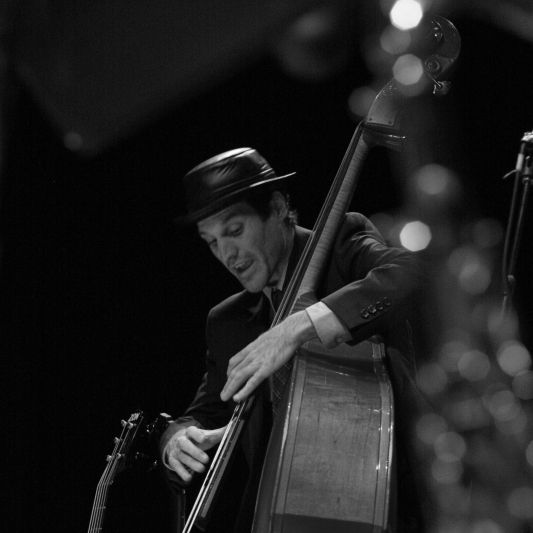 Justin Hellman was born in Chicago, IL and grew up in Northbrook, IL.  At age 16, his friends convinced him to pick up the electric bass so that they could form a band.  Within 3 months they were performing for a crowd of 2000 people, and within 6 months Justin was writing his first songs.
            In 1998 he moved to California to attend UC Berkeley.  Although he had only been studying music for 2 years, he decided to major in music and begin playing the acoustic bass.  Justin took lessons with the assistant principal double bass player of the SF Symphony, Stephen Tramontozzi, while learning composition, orchestration, and counterpoint in school.  He wrote several short pieces of chamber music and a symphonic movement that he composed as an honors project.  Meanwhile, he continued to pursue the electric bass, studying with Michael Manring and Kai Eckhardt, and performing with a band called Wayside.  Wayside shared the stage with well-known bands Tea Leaf Green, The Motet, and Melvin Seals, and performed with special guests Paul Hansen, Paul McCandless, and Will Bernard.  Their final performance was at the High Sierra Music Festival in 2002.
            After graduating from Berkeley with honors and a distinction in general scholarship, Justin began focusing more on jazz.  He performed with Bay Area greats Julian Lage, Henry Kaiser, Taylor Eigsti, and Dave Ellis, and developed a unique compositional style that balanced polyrhythm, tension and release with lyricism and groove.  He recorded 10 of his compositions on Shakin' It Like a Blue Funk Monkey in 2006, which received excellent reviews.  The 4th track of the album, Bring Out The Hellman, was featured in an episode of CBS's The Good Wife.  His jazz quartet performed frequently in the Bay Area, including multiple performances at Yoshi's Jazz Club, one of the premier jazz clubs in the country.
            During that time Justin also returned to writing vocal music and recorded 12 of his funk/soul compositions on the album Suite with his band Sugar Shack.  The album gave him an opportunity to write for a horn section of trumpet, saxophone, and trombone and 3 incredible vocalists.  While continuing to perform with Sugar Shack, his jazz quartet, and for numerous groups as a hired bass player, he also joined a pop/rock/jam band called Plum Crazy.  He contributed multiple compositions to E.P. Phone Home, a short album he recorded with the band.  Plum Crazy toured and performed numerous concerts at large venues like the Mystic Theater in Petaluma, CA.In 2010 Justin went back to school to pursue a medical degree.  He received a full scholarship to the University of Chicago and completed residency in ophthalmology at UC Davis, where he published numerous research studies and scored in the 99th percentile on the Ophthalmic Knowledge and Assessment Program.  He trained in oculoplastic surgery at Beaumont, and in 2020 he moved to Colorado.  On his 41st birthday he returned to composing classical music.  He wrote 2 string quartets and recorded them in April of 2022 with the Friction Quartet and producer Judith Sherman.  The album, Garden of the Gods, was released in April 2023 on Albany Records.
           He is currently at work on a piano trio and performing regularly with southern California's largest  Phish Tribute band The Great Divide.